---
Mexico's 1913 1-peso, of the 1910-1914 "Caballito" ("Little Horse") type. Struck beginning in the centennial year of the start of the war for Mexican independence, these "Caballitos" are 39mm in diameter and are the first Mexican 1-peso coins to display the country as it is styled today: "ESTADOS UNIDOS MEXICANOS."

The "Caballitos" contain good silver (.903), and a lot of it (27.07g), characteristics familiar, of course, to collectors and students of the old Spanish-American 8-reales. Alas, the 20th century was a difficult one for the old silver coinages, and like every other country in the world, Mexico did not succeed in keeping theirs.

Mexico's 1-peso, however, did put up a tougher fight than many of the world's silver coins. From 1918-1919 the 1-peso was coined in 18.13g of .800 silver; from 1920-1945 in 16.66g of .720 silver; from 1947-1949 in 14.00g of .500 silver; in 1950, 13.33g of .300 silver; and finally, from 1957-1967, in 16.00g of .100 silver.

Anyone familiar with the unhappy look of Mexico's .100 silver pesos after only a brief time in circulation knows that copper-nickel—when it did finally arrive with the 1970 1-peso—was a mercy long overdue.

But then anyone who has ever held a "Caballito" in his or her hand also knows that Mexico once had a 1-peso coin that was really…something special.



v.



Dateianhänge: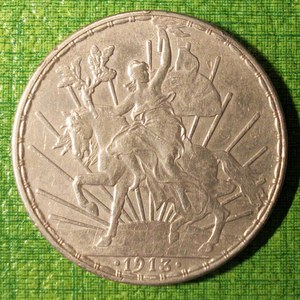 100_6955.JPG [ 38.68 KiB | 7023-mal betrachtet ]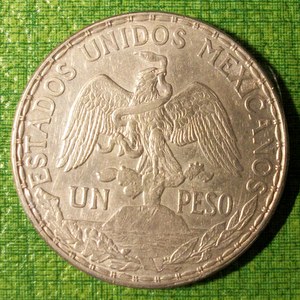 100_6960.JPG [ 39.89 KiB | 7023-mal betrachtet ]